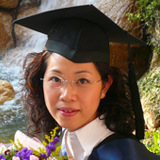 Ms Locinda Loi
2006 Graduate
Asia Pacific Manager
Pentasource Inc (US-based company)
" I am really proud of being an MBA student from City University, as it equips students with practical knowledge and trains us through many 'on-the-job' exercises to enable us to be at the cutting edge of industry and the commercial world.
What was the most valuable thing in my studies? It was not the certificate, but the knowledge obtained and the chance to put it into practice at work.
I greatly appreciate the College's foresight in realising that an MBA should not only provide students with theory, but, more importantly, with practical training and 'in-touch' knowledge of the contemporary business world. Thus, I always found the Professional Forums presented by successful business professionals to be of tremendous benefit. These professionals shared many interesting stories, as well as the secrets of success in the real world.
The most precious moment came during the Residential Trip, as we had to apply what we had learnt to tackle a real business issue in a real company. On my trip in 2006, we visited a well-known telecoms company in China. We had the chance to study the company's structure and discuss an enhancement plan with the company's management during the ten-day trip. I would say that if we had not been studying on this programme, then we wouldn't have had such in-depth communication and open discussion with top management. Tackling their issues really enhanced our learning.
Another gain is the friendships made with professors. We felt we were friends rather than in a teacher-student relationship. The professors shared their insights with us, and we gained knowledge through discussions with them. We had many opportunities to learn and to put into practice what we had learnt.
I have gained not only theory, but also knowledge and friendships with all-round professionals, which will benefit me and allow me to advance my professional career. "